Cole Custer Notes of Interest
• Cole Custer and the No. 00 Ford Mustang team for Stewart-Haas Racing (SHR) will be back in their Haas Automation colors this weekend at the track where this season's journey started in February. Friday night's Daytona 250 at Daytona (Fla.) International Speedway will mark the second time this season the Xfinity Series will make laps at the 2.5 mile oval. Having made the move back to the Xfinity Series, Custer was strong out of the gates in February, earning a third-place starting spot for the 125-lap race. He ran in the top-10 for a majority of the race and, despite being shuffled back on numerous occasions, he was able to recover for a ninth-place finish. It was his best Daytona finish in 15 total starts across NASCAR's Cup Series, Xfinity Series, Truck Series, and the ARCA Menards Series. He would follow it up with strong performances at the next three superspeedway-style races, finishing 12th March 18 at Atlanta Motor Speedway, fourth April 22 at Talladega (Ala.) Superspeedway, and third July 8 at Atlanta.
•  Friday's Daytona 250 will mark Custer's eighth Xfinity Series start at Daytona. Prior to his ninth-place
finish in February, he scored a pair of top-15 finishes at the track. Of Custer's eight starts outside of the Xfinity Series at Daytona, six came in the Cup Series, one in the Truck Series, and one in the ARCA Menards Series. He earned a best ARCA finish of 10th in February 2016 after starting on the pole and leading 42 laps. His best Cup Series finish was 11th, earned in his sophomore Cup Series season in the 2021 Daytona 500.
•  In last weekend's road-course race at Watkins Glen (N.Y.) International, Custer showed his perseverance and ability to rebound in tough situations. It was a roller coaster of a day that started with the No. 00 Ford Mustang being sent from its fourth spot on the starting grid to the rear of the field for unapproved adjustments. But Custer wasted little time in working his way toward the front, passing 25 cars by the 10th lap of the race. He was up to ninth when the first stage ended on lap 20, earning two stage points. He ran in the top-five for a majority of the race the rest of the way. While fighting for third with the No. 17 car of Alex Bowman on lap 63, the two made contact going into turn one. Both cars were able to continue, but Custer went off into the esses later that lap, forcing him to pit for four tires, fuel, and to clean the grille. He would rejoin the field 22nd, but on the lead lap with less than 20 laps to go to the scheduled 82-lap distance. With the prospects for a top-10 finish in jeopardy, the caution flag flew on lap 80, sending the race into overtime. Custer was able to stay out while the majority of cars ahead of him pitted for fuel and he found himself fourth on the ensuing restart. As the field approached turn one in overtime, the leaders made contact and Custer sustained damage in the melee but again was able to continue. He held on for a seventh-place finish.
•  Three races remain before the NASCAR Xfinity Series Playoffs begin Sept. 15 at Bristol (Tenn.) Motor Speedway. Custer has already locked in his spot in the 12-driver playoff field by virtue of his two wins this season, but he's still on the hunt for more playoff points to help him advance through the postseason – all the way to the Championship 4 finale Nov. 4 at Phoenix Raceway. He and the team have this weekend's race at Daytona, the Sept. 2 race at Darlington (S.C.) Raceway and the regular-season finale Sept. 9 at Kansas Speedway to perfect their performance and collect stage wins to gain points. Prior to the 2023 season, Custer was the Xfinity Series championship runner-up in both 2018 and 2019.
Riley Herbst Notes of Interest
•  Riley Herbst heads to Daytona looking to change his luck at a place where he was extremely lucky earlier this year. After an early ending to his run last Saturday at Watkins Glen due to a mechanical issue, the driver of the No. 98 Monster Energy Ford Mustang sees Friday night's Daytona 250 as a chance to turn things around with the playoffs fast approaching. When the series last visited Daytona in February, Herbst looked to be a favorite to contend for the win. He started 10th but found himself struggling with the balance of his racecar. Adjustments by the No. 98 Monster Energy team improved the balance of the racecar throughout the race, and Herbst found himself starting third for both the final two stages. He held his position in the top-five for a majority of both stages before losing the draft and dropping back to 12th in the closing laps. Perseverence enabled him to work his way back up to sixth by the checkered flag. It would be his first of six consecutive top-10s to open the 2023 season.
•  Friday night's race under the lights will mark Herbst's ninth Xfinity Series start at Daytona. In his prior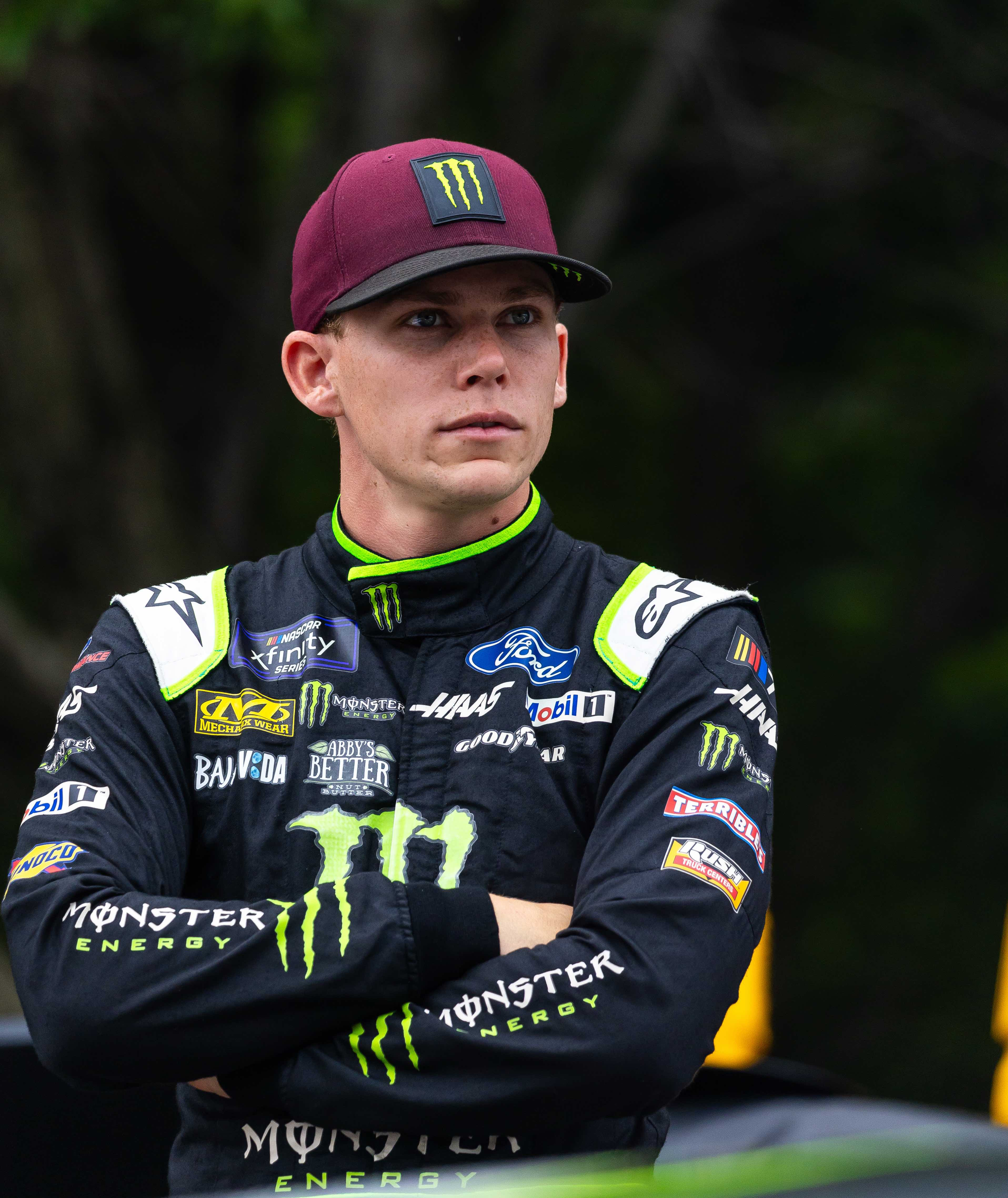 eight starts, he earned a best finish of fourth twice – in the February 2022 season opener and the August 2020 race. He has finished in the top-15 in five of his eight Daytona starts. Herbst also has six starts outside of the Xfinity Series at Daytona – three in the ARCA Menards Series, two in the NASCAR Truck Series, and one in the NASCAR Cup Series. All resulted in top-12 finishes with his seventh-place finish in the February 2020 ARCA race best among them.
•  Herbst will be pulling double duty this weekend in Daytona as he will pilot the No. 36 Monster Energy Zero Sugar Ford Mustang for Front Row Motorsports in Saturday's Daytona 400 NASCAR Cup Series race. It will be his third career Cup Series start and his second at Daytona. His first came in February's 65th running of the Daytona 500, when he survived mayhem in the final laps for a 10th-place finish, making him only the second driver in NASCAR history to record a top-10 in his Cup Series debut in the Daytona 500. He joined Terry Ryan, who made his debut in the 1976 edition of The Great American Race and finished sixth. In addition, Herbst became just the fourth driver in NASCAR history to earn a top-10 in each of his debut races in the Cup Series, Xfinity Series, and Truck Series.
•  With only three races remaining before the 12-driver NASCAR Xfinity Series Playoffs begin Sept. 15 at Bristol, Herbst is defending his 12th-place position in the playoff standings. Herbst now sits three points ahead of 13th-place Parker Kligerman, the first driver on the outside looking in, after his early exit at Watkins Glen last weekend. A win during the final three regular-season races would lock Herbst into the playoff field for the fourth time in his four seasons racing fulltime in the Xfinity Series.
Cole Custer, Driver of the No. 00 Haas Automation Ford Mustang
You're heading back to the track where the 2023 season started. How far do you think you and the No. 00 Haas Automation team have come since the first race in February at Daytona?
"The growth for this team has been huge. That first race of the season, especially that practice in Daytona, everybody kind of held their breath, you know. That whole practice was just used to make sure nothing went wrong and to see what you know as a team to start the year. We didn't exactly start how we wanted, but through great communication and getting to know the team more, we've come a long way from that first time on track in Daytona. I've spent a ton of time with the guys and JT (Jonathan Toney, crew chief) since then, and that connection helps, at the end of the day. The guys have worked extremely hard to give me fast racecars. We found what we needed from that first race, and we're really starting to hit our stride now. I think we'll have a great playoff run because of the hard work we've put in."
While the NASCAR Cup Series is wrapping up its regular season this weekend at Daytona, the Xfinity Series will still have two more races after this one before the playoffs begin Sept. 15 at Bristol. How does it feel to already have your spot locked into the playoffs via your two wins this season?
"It's definitely huge to have the weight lifted off your shoulders. It can get nerve-racking when you're on the bubble, or have to focus on points racing. With that being said, we have to make sure that we keep running as hard as we can to try and build up points as a cushion when they reset for the playoffs. You can do that by winning stages and winning races. It'll help you out so much in the playoffs in case you have a bad race, so it'll make life a little easier in those situations. We just have to keep at it. You can't let your guard down or feel too secure because the playoffs reset everything."
Riley Herbst, Driver of the No. 98 Monster Energy Ford Mustang
Daytona is a wild card, but you seem to have figured out superspeedway racing and seem to be a contender whenever you go to those tracks. What do you need to do this weekend to protect your spot in the NASCAR Playoffs, but also have a chance at the win?
"It's a tough situation. You don't want to put yourself in a bad situation in points, but you also don't want to play it too safe and lose out on a chance to win. Daytona has been good to me in the past, so I'm hoping we can just have a strong weekend to help put us in a better position heading into Darlington and Kansas for the final races of the regular season. We have fast Ford Mustangs on the No. 98 Monster Energy team, so it's just about turning our luck around at this point. In order to be there at the end, we have to have a fast car, fast pit stops, and make no mistakes. It's easier said than done, but I know we can do it."
You'll also be making your third career NASCAR Cup Series start this weekend and your second at Daytona after an impressive 10th-place finish in the Daytona 500 in February. Talk about how you're feeling and what you learn from your starts in the Cup Series that you can take to the Xfinity Series.
"I'm excited to make another start at Daytona. The Daytona 500 was a dream come true with just being able to drive a Cup car in that iconic race, and I'm thankful to have Monster Energy onboard with me in the No. 36 Monster Energy Zero Sugar Ford Mustang. These experiences really just help you with track time and experience. The Cup cars and Xfinity cars are so different now that there's not much you can carry over, but track time is everything for a young driver like me. It helps you get comfortable in making moves and navigating a racetrack. Hopefully, we can have a good run in the No. 36 Ford Mustang this weekend, but I'm just excited for another chance to make a start in the Cup Series."
TSC PR