Cole Custer Notes of Interest
•  Cole Custer is ready for a new challenge as the No. 00 Haas Automation team for Stewart-Haas Racing (SHR) heads to the Circuit of the Americas (COTA) in Austin, Texas, for Saturday's Pit Boss 250 presented by USA Today. Not much luck has been dealt to Custer thus far in 2023, but he's looking to turn that around with an entirely different style of racing this weekend. After three consecutive 12th-place finishes at Las Vegas Motor Speedway, Phoenix Raceway, and Atlanta Motor Speedway, respectively, Custer is trading in the superspeedway-style and intermediate tracks for the complexities of road-course racing. Saturday's 48-lap, 156.86-mile race marks Custer's 116th NASCAR Xfinity Series start and his 16th on a road course. Best of his previous 15 road-course outings was a third-place finish at COTA last March in the No. 07 Ford Mustang for Bobby Dotter Racing.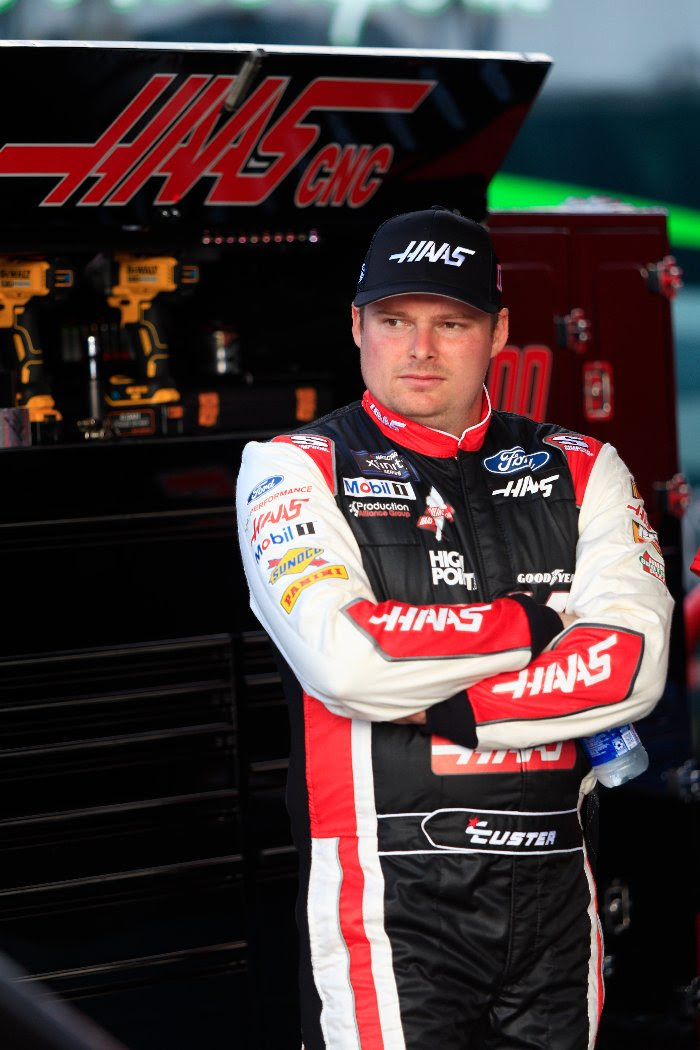 •  The Pit Boss 250 will be Custer's third Xfinity Series start at COTA. Before last year's third-place finish at the 3.426-mile, 20-turn circuit, Custer finished seventh in 2021. He also has a pair of NASCAR Cup Series starts there with a best result of 23rd earned last March.
•  Custer's strong road-course performances have not been limited to the Xfinity Series. He also has top-10s in all three of his NASCAR Truck Series outings on road courses, all occurring at the Canadian Tire Motorsports Park in Bowmanville, Ontario. Best of those was his most recent outing in 2016 with the No. 00 JR Motorsports entry, for which he qualified on the pole, led a race-high 39 laps and finished just .034 of a second behind race winner John Hunter Nemechek. Custer also made three road-course starts apiece at Sonoma (Calif.) Raceway and Watkins Glen (N.Y.) International in the NASCAR K&N Pro Series with a best finish of third in the 2016 race at Watkins Glen.
Riley Herbst Notes of Interest
•  Riley Herbst is proving to be a silent title contender as the Xfinity Series heads to its sixth race of 2023 at the COTA. After leading laps and running up front in last Saturday's race at Atlanta Motor Speedway, Herbst picked up his second consecutive top-five finish. The driver of the No. 98 Monster Energy Ford Mustang for SHR has now scored eight top-10 finishes in a row dating back to his eighth-place result on Oct. 22, 2022, at Homestead-Miami Speedway. That consistency has spilled over to a pair of top-10s that Herbst secured outside the Xfinity Series, as well. He co-drove to a third-place finish in last November's Baja 1000 off-road race in the Terrible Herbst Motorsports entry and earned a 10th-place finish last month in his NASCAR Cup Series debut in the 65th running of the Daytona 500.
•  Herbst's five consecutive top-10s to start the 2023 Xfinity Series season is a career first. He's one of only three drivers who have posted top-10s at each race thus far – Austin Hill and Nemechek are the others. Herbst arrives at COTA tied with Nemechek for second in the driver standings, the highest position he's held at this point in a season. Herbst has collected a total of 44 stage points in 2023, and he's finished outside the top-10 in just one stage so far this season.
•  Saturday's Pit Boss 250 will mark Herbst's third career Xfinity Series start at COTA. His first start there in the No. 98 Monster Energy Ford Mustang in 2021 resulted in a 16th-place finish. He returned last March to post a 26th-place finish after struggling with balance issues.
•  While Herbst looks to make a breakthrough Xfinity Series run at COTA this weekend, he'll try to capitalize on the momentum from his string of strong road-course outings the latter half of last season. After an incident ended a top-three run at a rainy inaugural race June 4 at Portland (Ore.) International Raceway, he went on to earn top-10 finishes at each of the next three road-courses events – July 2 at Road America in Elkhart Lake, Wisconsin (seventh), July 30 on the Indianapolis Motor Speedway road course (sixth), and Aug. 20 at Watkins Glen (N.Y.) International (seventh). He also ran in the top-five for a majority of the playoff race Oct. 8 on the Charlotte (N.C.) Motor Speedway Roval, but a late-race incident on a restart ended his day early and took him out of the running for the championship.
Cole Custer, Driver of the No. 00 Haas Automation Ford Mustang
You're returning to COTA, which you've experienced in both the Cup Series and Xfinity Series. Talk about your thoughts heading into the race and how you think those prior starts will help.
"I've always loved road-course racing and, honestly, COTA's been a solid track for me. Road-course racing is fun. I ran the Xfinity race there the past two years as well as the Cup races, so hopefully we can keep building on what I learned there and go for the win this weekend. Any laps on a road course helps, but I have laps there in an Xfinity Series car, so thankfully I kind of know what to expect."
After the first five races of the season, what do you believe it will take to get you back to victory lane in the Xfinity Series?
"Honestly, the team isn't lacking in anything. We've brought fast cars and led laps, it's just about having a perfect day where everything goes our way. We were fast at Auto Club, but bad luck and a cut right-front tire took us out of the running. Then, we have just struggled to get the position on the track and the balance right the past three weekends. We're close. Hopefully, we can get it done this weekend."
Riley Herbst, Driver of the No. 98 Monster Energy Ford Mustang
You're competing up front, leading laps, finishing well, and you're currently tied for second in the driver standings. Would you consider the No. 98 Monster Energy team something of a silent contender?
"As much as I love to see the growth, I'm also OK with running under the radar. We're going for the win every week, but I also don't think it hurts to see just how far we've come. I think people are realizing that we can race for wins and be a top team, but I'm also OK being a dark horse in the series. I know what this No. 98 team and I are capable of and I hope to be able to show that to people each and every week."
COTA has been a tough track for you in the past, but you and the team did seem to elevate your road-course game the latter half of last year with top-10s at Road America, Indy and The Glen, and you also had a strong runs cut short on the Charlotte Roval and at Portland. How do you feel going into this Saturday's race?
"Yeah, I just haven't really figured out COTA. It's just a difficult track to figure out, to be honest. It definitely hasn't been my best track on the circuit, but there's always room for improvement. Cole performed well there in the Xfinity Series the past two years, so I'm hoping to learn from him. We did do well at the other road courses last year, but COTA is a beast of its own. Each road course is different. We have limited practice, but we're ready to take on the challenge and continue to improve on our finishes."
TSC PR