●  United Rentals, Inc. (NYSE: URI), the largest equipment rental company in the world, is serving as the primary sponsor of Ryan Preece and the No. 41 team of Stewart-Haas Racing (SHR) for select NASCAR Cup Series races in 2023, beginning with the Busch Light Clash at The Coliseum Feb. 4-5 at the Los Angeles Memorial Coliseum. United Rentals has an integrated network of 1,449 rental locations in North America, 13 in Europe, 27 in Australia and 19 in New Zealand. In North America, the company operates in 49 states and every Canadian province. The company's approximately 24,700 employees serve construction and industrial customers, utilities, municipalities, homeowners and others. The company offers approximately 4,700 classes of equipment for rent with a total original cost of $19.3 billion. United Rentals is a member of the Standard & Poor's 500 Index, the Barron's 400 Index and the Russell 3000 Index® and is headquartered in Stamford, Connecticut. Additional information about United Rentals is available at UnitedRentals.com.
●  Perseverance has paid off for Preece. SHR promoted the 32-year-old racer from Berlin, Connecticut, from his reserve driver role with the organization to the NASCAR Cup Series in 2023 where he will drive the team's No. 41 Ford Mustang. Preece had spent 2022 performing simulator work while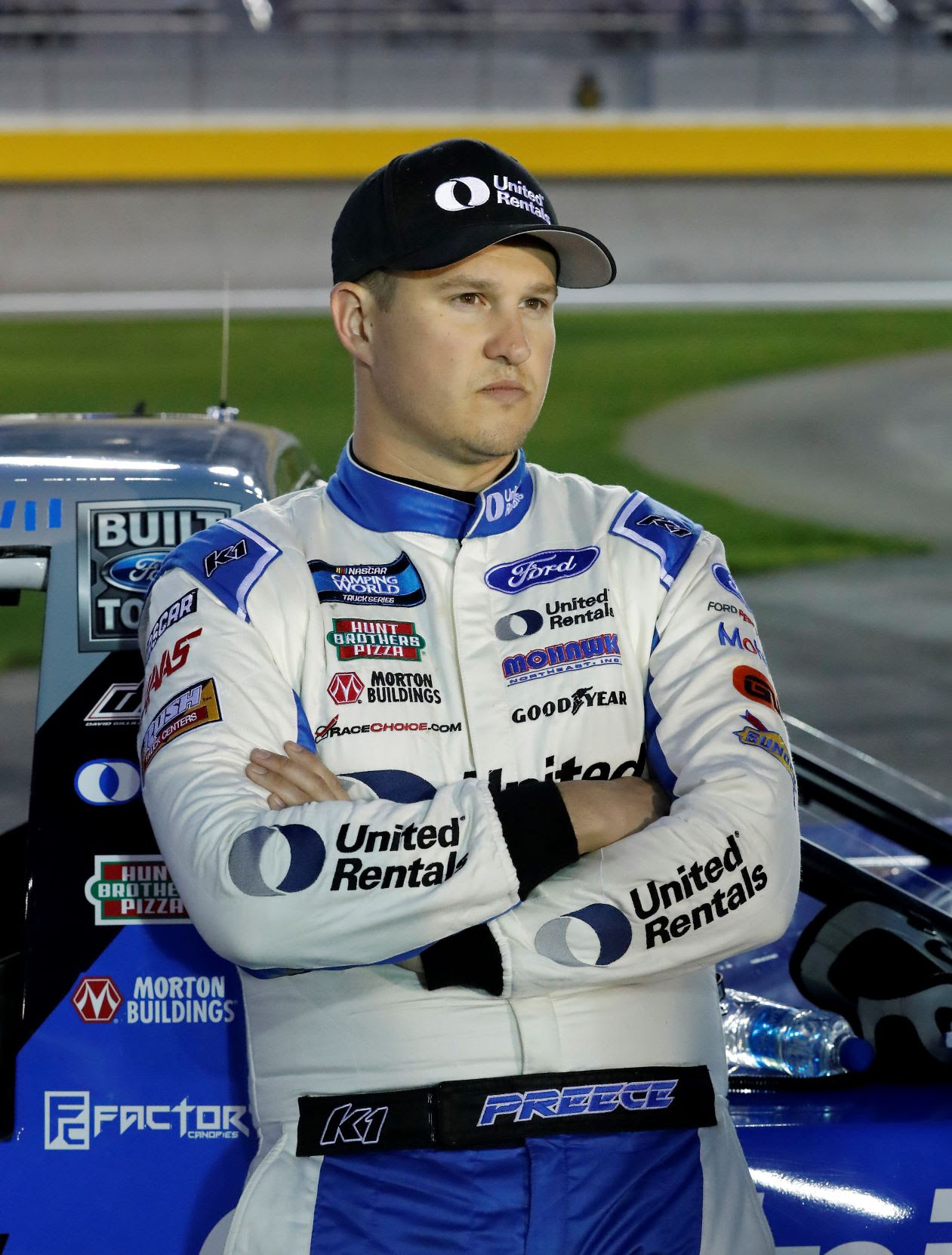 running a mix of races across each of NASCAR's top-three national touring series – Cup, Xfinity and Truck – a schedule punctuated by a Truck Series win from the pole June 24 at Nashville (Tenn.) Superspeedway, his second straight at the 1.333-mile oval near Music City.
●  One of the NASCAR Cup Series races Preece ran last year was the Busch Light Clash at The Coliseum. Preece drove for Rick Ware Racing and advanced into the 150-lap main event. It was a herculean effort for the small team, and Preece played a key role even from outside of the racecar. To simply have a car ready for the race, Preece worked side-by-side with his mechanics in the days and nights leading into The Clash building the racecar, a rarity in the ultra-specialized world of NASCAR's premier division.
●  Preece made a name for himself on the NASCAR Whelen Modified Tour – NASCAR's oldest division and the only open-wheel series sanctioned by NASCAR. Preece won the Tour championship in 2013 and worked hard to leverage that title into additional opportunities in the Xfinity Series – NASCAR's stepping-stone division to the elite Cup Series. After spending all of 2016 in a scrappy effort with an underfunded team that delivered a best finish of 10th, Preece mortgaged his house to secure two races with Joe Gibbs Racing (JGR) in 2017. In equipment finally befitting his talent, Preece finished second in his JGR debut at New Hampshire Motor Speedway in Loudon and then won in his very next start at Iowa Speedway in Newton. In his next five Xfinity Series starts, Preece never finished outside of the top-10, a run capped with a second victory in April 2018 at Bristol (Tenn.) Motor Speedway.
●  The NASCAR Whelen Modified Tour is filled with short tracks, so competing at a quarter-mile oval – the shortest track the NASCAR Cup Series will compete on in 2023 – is nothing new for Preece. That experience will prove incredibly useful because only 27 cars can line up for the 150-lap feature. Getting to the main event is a process. Here's how it works...
●  On Saturday, Feb. 4, NASCAR Cup Series competitors will take to the track for practice prior to single-car qualifying to determine the starting order for four heat races. On Sunday, Feb. 5, on-track action will begin with four, 25-lap heat races consisting of 10 cars each. Below is a breakdown on how the heat races will be filled out:
    ●  The top-four fastest qualifiers from Saturday's single-car qualifying session will be on the pole for each heat race, while cars that qualified fifth through eighth will make up the other half of the front row in each heat.
    ●  The remainder of each field will be filled using this methodology: Heat one will be made up of cars with qualifying positions of one, five, nine, 13, 17, 21, 25, 29, 33, 37.
    ●  The top-five finishers (20 total cars) from each heat race automatically advance to the Busch Light Clash, with the winner of heat one winning the pole and the winner of heat two earning the outside pole.
    ●  The winners of heats three and four will fill out the second row, with the remaining order being determined in the same manner.
    ●  The remaining finishing positions from each heat that did not advance will continue to one of two 50-lap Last Chance Qualifying (LCQ) races. Below is a breakdown on how the LCQ will be filled out:
    ●  The starting order for these two events will be determined based on finishing positions in the heat races.
    ●  Those who did not advance from heats one and three will make up the first LCQ race. The second race will be made up of those from heats two and four.
    ●  The sixth-place finishers from heats one and two will be on the pole in their respective LCQ races. The sixth-place finishers from heats three and four will be on the outside pole.
    ●  This pattern will continue to fill out the remaining cars in each LCQ.
    ●  The top-three finishers (six total cars) from both LCQ races will advance to the Busch Light Clash, filling out positions 21-26 of the 27 available positions.
    ●  The final spot in the Busch Light Clash will be reserved for the driver who finished the highest in the 2022 points standings who does not transfer on finishing position in their heat race or in their LCQ race.
    ●  All other drivers will be eliminated from competition for the remainder of the event weekend. 
Ryan Preece, Driver of the No. 41 United Rentals Ford Mustang 
You won the second LCQ race last year to advance to the Busch Light Clash. Talk about that LCQ race and how frantic the final laps were, and how your poise earned you the win, even after crossing the stripe in second place. (Ty Dillon was originally declared the winner, but NASCAR determined he jumped the final restart. He was disqualified. Preece, who had finished second to Dillon, was awarded the win and the final transfer spot to the Clash.)
"Going there with Rick Ware Racing and having to race our way in, we knew it was going to be tough. It was a level playing field for the most part just because not many people had been testing with the NextGen car, so it was all still pretty new. I felt like we had a pretty decent car right away and we just kind of tuned on it and we were able to make it into the big show. That was huge for that team, and I come from quarter-miles, so it was nice to be a part of it and get some experience."
Which was tougher – advancing to the Clash via the LCQ or just getting your car ready to compete at the L.A. Coliseum. Rumor has it you built your own NextGen car to race at the Clash. Is that true?
"I didn't completely build it, but I did help at times, and after the B-main (LCQ), I had to get in there and do a little bit of work just because we were short-handed. It's always nice to get your hands dirty and be a part of the process, but at this level, there are so many smart people, and people who are seasoned and knowledgeable, so it's nice to be at SHR and have the opportunity to lean on my teammates."
You're a bit old school in that you've always worked on your own racecars. Talk about growing up with that mentality and how it has helped you get back to the NASCAR Cup Series with Stewart-Haas Racing.
"The one takeaway you really have from being old school and working on your own racecars is that it teaches you the will to win. It teaches you to be a fighter. It teaches you how to make things possible. Racing, as much as it is a competitive sport and it's about winning, there are so many life lessons that come along with it. I'm proud of my grassroots, weekly racing background and from where I come from. It's rewarding to be back and have this opportunity."
When it comes to the primary partner on your racecar, United Rentals, you're pretty hands on with them too. You know your way around all the equipment they provide. Is it a badge of honor to be able to jump on a scissor lift or a forklift, or to grab a generator or an air compressor and just know what you need to do with them? 
"My father, he owns an HVAC company, and you're using forklifts or scissor lifts, really all of United Rentals' equipment all the time. It's really a natural fit for me. When some guests from United Rentals show up and I get to talk to them, I can have a genuine conversation with them, even if it's not about their equipment or what they're doing. Those are the types of people and partners that I really enjoy working with. Getting to meet all of the different contractors that they bring and hearing their stories."
For a guy who is used to working on his own stuff and making parts and pieces for his racecars, is there any better place to be than at a race team that's co-owned by NASCAR Hall of Famer Tony Stewart and Haas Automation founder Gene Haas?
"I'm really excited about this because Tony Stewart and Gene Haas, they're both innovators. They're racers. Tony's a racecar driver and just look at everything Gene Haas has built, this empire he has created with Haas Automation. It's a great opportunity that I have to race for this team and this organization and, hopefully, we've done a good job preparing and we can go out and have an extremely successful year."
In regard to the actual racing at the Coliseum, how did reality line up with your expectations, and what are your expectations for this year's Clash?
"We surpassed our expectations at The Clash last year. For every race, my expectation is to show up and try to win, but just making that race was a big deal for me and for that team. I felt like we could've had a top-10 effort but, unfortunately, we had a brake failure. As far as our goals and what we have set for this year, I know what my goal is and that's to win. I feel really strongly about the relationship that I have with Chad (Johnston, crew chief) and what we're capable of doing together."
TSC PR