Race Highlights:
Richard Childress Racing drivers Austin Dillon, Ryan Newman and Paul Menard finished fourth, eighth and 12th, respectively, in the Pure Michigan 400 at Michigan International Speedway.

Menard ranks 11th in the Sprint Cup Series championship point standings, trailing current leader Kevin Harvick by 212 points, while Newman ranks 12th and Dillon ranks 20th.

Matt Kenseth earned his third win of the 2015 season and was followed to the line by Kevin Harvick, Martin Truex Jr, Dillon and Denny Hamlin.

The 24th race of the 2015 Sprint Cup Series season is the Night Race at Bristol Motor Speedway on Saturday, August 22, 2015, which is scheduled to be televised live on NBC Sports Network beginning at

7:30 p.m.

Eastern Time and broadcast live on the Performance Racing Network and SiriusXM NASCAR Satellite Radio, channel 90.
Austin Dillon Earns Career-Best NASCAR Sprint Cup Series Finish at Michigan International Speedway
Richard Childress Racing's Austin Dillon earned his career-best finish in the NASCAR Sprint Cup Series

on Sunday

afternoon, driving the No. 3 Dow Chevrolet to a fourth-place finish in the Pure Michigan 400 in front of a large contingent of Dow guests. Although the sophomore driver of the Dow Chevrolet qualified fourth for the 200-lap race, he dropped to the rear of the field before the green flag as a result of changing engines after final practice

on Saturday

afternoon. With a starting position deep in the field, crew chief Slugger Labbe used pit strategy to cycle the No. 3 car to the front of the field. He opted to direct Dillon down pit road during an early-race caution on lap 11 for four tires. Later, he kept the Welcome, N.C. driver on the racetrack during a NASCAR-mandated competition caution on lap 20. The decision to stay on the track helped Dillon assume the race lead when green-flag racing resumed and the team led 19 circuits in total over the course of the day. Dillon fell one lap down to the leader after pitting for right-side tires and fuel on lap 41. The pit strategy played to Dillon's favor when the rest of the field pitted 15 laps later allowing Dillon to regain his lap and reclaim the lead before falling to second in the running order. A debris caution on lap 71 put Dillon on the same strategy as the rest of the field. Dillon was scored in the second position when he came down pit road under green-flag conditions on lap 163 for four tires, fuel and a wedge adjustment and used the final 37 laps to cycle through to a fourth-place finish in the Dow Chevrolet.
Start - 4                 Finish - 4                     Laps Led - 19               Points - 20
AUSTIN DILLON QUOTE: 
"We had some circumstances where we had to start at the back and had to figure out a way to get our track position back.  Slugger and the engineers did a good job coming up with a plan.  The first 20 laps was no fun for us because we had to ride around and try and stay in front of the leader, but we saved gas and decided to not come down pit road on that first competition caution for fuel, and it worked out.  It showed that our car was fast enough to stay up there. We pitted, drove back up to where we needed to be, and it was a fun day for us, the Dow Chevrolet was fast, and I felt like I passed a lot of cars, also, getting into fourth. I want to thank the guys for their hard work today and everyone at Dow for sticking with us."
Paul Menard Finishes 12th at Michigan International Speedway, Recording His 16th Top-15 Finish of 2015
Paul Menard drove the No. 27 Richmond/Menards Chevrolet SS to a 12th-place finish after starting 24th in

Sunday's

200-lap event at Michigan International Speedway. The Richard Childress Racing driver made his way to the 16th spot before the day's first caution flag was displayed on lap one. After the restart on lap five, Menard picked up more spots and maintained his position in 12th when the NASCAR-mandated competition caution was displayed on lap 20. Crew chief Justin Alexander opted to pit for two right-side tires and fuel when pit road was open on lap 21. Menard restarted 14th on lap 24 and was in the 10th position on lap 42 when he noted a tight-handling condition early in the center of the turns. The Alexander-led team remedied the tight-handling on laps 60, 73, 114, 122, 125 and 164 for a combination of four and two-tire stops with wedge adjustments as well as a fuel-only stop. Menard raced as high as fourth before taking the final green flag from eighth and crossing the finish line 12th. This marks the No. 27 team's fourth-consecutive and 16th top-15 finish of 2015. Menard is now 11th in the championship point standings and 13th on the Chase for the Sprint Cup Grid. Up next for the team is

Saturday

night's race at Bristol Motor Speedway.
Start - 24            Finish - 12           Laps Led - 0              Points - 11
PAUL MENARD QUOTE:
"It was a decent day. We didn't practice or qualify very well, but made up a lot of spots early in the race. Then we just got too tight during the second half of the race to really do much. The guys keep fighting hard. We finish top 15 like every week. I just want to get in the top five and the top 10 more often. That is what we need to do to compete in the Chase."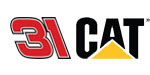 Ryan Newman Records 11th Top-10 Finish of Season at Michigan International Speedway 
Ryan Newman drove Richard Childress Racing's No. 31 Caterpillar Chevrolet SS to an eighth-place finish in

Sunday's

200-lap event at Michigan International Speedway. The South Bend, Ind., driver started 17th and raced within the top 15 during the opening stages. He reported to crew chief Luke Lambert that his Caterpillar Chevrolet handled tight throughout the corners especially in turns 3 and 4. Lambert called for chassis adjustments on laps 59, 73, 104 and 122. Shortly after the restart on lap 125 while running in 12th position, Newman made contact with another car. Both cars sustained damage and under caution, the Cat crew made the needed repairs on lap 127. The visit on pit road helped Newman climb from 17th to 13th before another caution flag waved on lap 135. The team's final service occured on lap 171 for two right-side tires. The Caterpillar Chevrolet restarted 12th and when the checkered flag waved, Newman finished in eighth place. The top-10 finish marks the Cat team's
11th top-10 finish of the year and moves Newman to 12th in the championship point standings with just three races remaining before the Chase for the championship begins.

Next Saturday

night, the Series competes at Bristol Motor Speedway where Newman will be making his 500th NASCAR Sprint Cup Series start. Caterpillar will be primary.
Start - 17                      Finish - 8                     Laps Led - 0                Points - 12
RYAN NEWMAN QUOTE: 
"I am so pleased with this top-10 finish. It was an awesome team effort. Luke made the right calls in fine tuning our car. The pit crew did a great job fixing the car when we had that close call and then they picked up spots on pit road when we needed it most, especially on that last stop. It was a good day for us and a good points day for us. I'm looking forward to Bristol and I just found out that it will be my 500th NASCAR Sprint Cup Series start. I had no idea, so I'm hoping it will be another good weekend for us."
RCR PR