Race Highlights:
Richard Childress Racing drivers Paul Menard, Ryan Newman and Austin Dillon finished 13th, 15th and 36th, respectively, in the Watkins Glen 355 at Watkins Glen International.

Menard ranks 11th in the Sprint Cup Series championship point standings, trailing current leader Kevin Harvick by 201 points, while Newman ranks 13th and Dillon ranks 21st.

Joey Logano earned his second win of the 2015 season and was followed to the line by Kyle Busch, Kevin Harvick, Matt Kenseth and Kurt Busch.

The 23rd race of the 2015 Sprint Cup Series season is the Pure Michigan 400  at Michigan International Speedway on Sunday, August 16, 2015, which is scheduled to be televised live on NBC Sports Network beginning at 2:30 p.m. Eastern Time and broadcast live on the Motor Racing Network and SiriusXM NASCAR Satellite Radio, channel 90.
Austin Dillon Earns 36th-Place Finish at Watkins Glen International
Richard Childress Racing's Austin Dillon earned a 36th-place finish in the No. 3 Dow Chevrolet on Sunday afternoon after starting 10th in the NASCAR Sprint Cup Series race at Watkins Glen International. The sophomore competitor earned his best starting position at a road course and looked strong during the beginning portion of the 90-lap event, running as high as fourth at the seven-turn road course. His day began to turn sour following a tap from another competitor that resulted in a spin on the course and a fender rub that led to a cut left-rear tire on the Dow Chevrolet. The caution flag was displayed on lap 45 and the Slugger Labbe-led team immediately went to work on pit road making extensive repairs to the No. 3 Chevrolet's damaged fender. Dillon returned to the track in the 42nd position, one lap down and spent the remaining laps fighting for the Lucky Dog award. Unfortunately, long green-flag runs ensued preventing Dillon from earning his lap back. He gained several positions and crossed the finish line 36th. Dillon will race the No. 3 Dow Chevrolet at Michigan International Speedway on August 16.
Start - 10                Finish - 36                   Laps Led - 0                Points - 21
AUSTIN DILLON QUOTE: 
"The Dow Chevrolet was really fast this weekend. We proved that by making it to the final round of qualifying and running in the top five during the beginning of the race today. It's unfortunate the race played out the way it did but I am proud of this team and we will be ready to rebound at Michigan next weekend."


Paul Menard Earns Third-Straight Top-15 Finish at Watkins Glen International


Paul Menard started Sunday's 90-lap NASCAR Sprint Cup Series event at Watkins Glen International in the 28th spot and gained 15 spots to finish 13th. The Eau Claire, Wisconsin native spun early in the 220.5-mile event after contact with a fellow competitor. With no caution flag displayed, Menard fell to 32nd and slowly made his way back through the field. The Richard Childress Racing driver noted a tight-handling condition in Turns 5 and 6 with a lack of rear grip during the long run. Crew chief Justin Alexander called the Libman / Menards Chevy driver to pit road on lap 26 for four tires, fuel and a wedge adjustment. Menard restarted 24th on lap 31 and quickly reported the neon No. 27 Chevy was handling better than before. The Alexander-led team saw Menard on pit road two additional times for four tires, fuel and a wedge adjustment on lap 46 and for fuel only on lap 58. Menard took the final green flag on lap 60 from the 18th position and crossed the finish line 30 laps later in 13th.
Start - 28                    Finish - 13                 Laps Led - 0              Driver Points - 11
PAUL MENARD QUOTE:
"We fought hard today and the finish really isn't what we were here for. We learned some things that we can talk about this week and use for next time. I'm proud of my guys for working hard this weekend and making this car faster. We'll just keep chipping away at the points."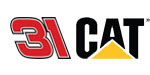 Ryan Newman Drives the Caterpillar Chevrolet to a 15th-Place Finish
at Watkins Glen International 
Ryan Newman drove Richard Childress Racing's No. 31 Caterpillar Chevrolet SS to a 15th-place finish in Sunday's 90-lap road-course event at Watkins Glen International. The South Bend, Ind., driver started 20th and battled extremely tight conditions through the right-hand turns. The first chance to pit happened under caution on lap 26. Crew chief Luke Lambert called for a four-tire change along with chassis adjustments. Newman restarted 20th and climbed to 18th by lap 30. Another chance to fine tune the No. 31 Caterpillar Chevrolet happened on lap 47 with Newman scored in 17th. The main course of action was air pressure changes to loosen up the car especially in Turn 9. The pit cycle allowed the team to climb to sixth before another caution on lap 57 flew. Lambert called for a gas-and-go stop one lap later. The Cat team restarted 16th with 30 laps remaining in regulation and as the laps ticked away, Newman continued to battle tightness through the right-hand turns but was good to go on fuel to cross the finish line in 15th
. Newman remains 13th in the championship point standings with just four races remaining before the Chase for the NASCAR Sprint Cup championship begins.
Start - 20                              Finish - 15                     Laps Led - 0                          Points - 13
RYAN NEWMAN QUOTE:
"This wasn't the finish we were hoping for but all and all, it was a decent day for the team considering where we finished last year. The pit crew did a great job for me, it's just a shame we battled an extremely tight-handling Caterpillar Chevrolet to keep us from getting another top-10 finish on a road course."
RCR PR