Race Highlights:
Richard Childress Racing teammates Paul Menard, Ryan Newman and Austin Dillon finished third, seventh and 35th, respectively, in the GEICO 500 at Talladega Superspeedway.

Menard ranks 11th in the Sprint Cup Series championship point standings, trailing current leader Kevin Harvick by 114 points, while Newman ranks 14th and Dillon ranks 25th.

Dale Earnhardt, Jr. earned his first win of the 2015 season and was followed to the line by Jimmie Johnson, Menard, Ryan Blaney and Martin Truex Jr.

The 11th race of the 2015 Sprint Cup Series season is the Sponge Bob Square Pants 400 at Kansas Speedway on Saturday, May 9, 2015, which is scheduled to be televised live on FOX Sports 1 beginning at 7:30 p.m. Eastern Time and broadcast live on the Motor Racing Network and SiriusXM NASCAR Satellite Radio, channel 90.
Austin Dillon Finishes 35th at Talladega Superspeedway Following Mechanical Issues
Austin Dillon retired from the NASCAR Sprint Cup Series race at Talladega Superspeedway with mechanical issues 31 laps shy of its advertised distance on Sunday, relegated to a 35th-place finish in Richard Childress Racing's No. 3 Bass Pro Shops/TRACKER Boats Chevrolet. The Welcome, N.C. driver started the GEICO 500 from the 14th position and utilized every lane of the 2.66-mile superspeedway for the first 157 circuits as the 43-car field raced in tight, two- and three-wide packs. Just one lap short of the last scheduled green-flag pit stop of the race, Dillon's car came to a stop on the track with a mechanical issue bringing out the caution flag. With un-repairable damage to the Bass Pro Shops Chevrolet, Dillon retired from the race early taking the 35th-place finish. He will drive the Dow Chevrolet Saturday evening, May 9 at Kansas Speedway live on FOX Sports 1 at 7:30 p.m. Eastern Time.
Start - 14                Finish - 35                   Laps Led - 0                Points - 25      
AUSTIN DILLON QUOTE: 
"We had a really good race going today but the engine gave way. We have some work to do in that area but I know everyone at RCR and ECR does a great job and we will come back stronger. I want to thank Bass Pro Shops, Dow, American Ethanol, Realtree and everyone for their support. We've had a rough stretch of races, but we will get this monkey off of our back."
,
Paul Menard Earns Best Finish of 2015 at Talladega Superspeedway
Paul Menard drove Richard Childress Racing's No. 27 Quaker State/Menards Chevrolet SS to a third-place finish in Sunday's NASCAR Sprint Cup Series event at Talladega Superspeedway. The Wisconsin native qualified seventh on Saturday during the new, two-round, single-car qualifying format for the 2.66-mile track. When the green flag dropped for Sunday's race, Menard remained within the top 10 until the caution flag was displayed on lap 18. The Richard Childress Racing driver reported the car was free at the beginning of the run but tightened up as he ran more laps. This set Menard up for a restart in the top 10 where he stayed until the yellow flag was shown for "the big one" on lap 47. After an 11 minute and 50 second red flag, Menard restarted ninth where he maintained position until he decided to fall back in order to cool the car down. The No. 27 Quaker State/Menards Chevy came down pit road five additional times for a combination of fuel only, four-tire and two-tire stops. With just a few laps remaining, Menard made a move to the inside line and charged to the front which put him third when the checkered flag dropped. This finish is Menard's best of the 2015 season and marks his second top-five in the first 10 races. Menard was also recognized as the Moog Chassis Parts Problem Solver of the Race. Up next for the No. 27 team is Saturday night's event at Kansas Speedway.
Start - 7                       Finish - 3                     Laps Led - 0                Points - 11
PAUL MENARD QUOTE:
"Everybody was just waiting for somebody to make a move. I didn't want to be the first guy and I think Denny (Hamlin) made the move and we just kind of all went wherever we needed to from there. We had a really fast Quaker State/Menards Chevy. We ran hot with oil all day long and it held up for us.  We have fast cars at RCR with ECR horsepower."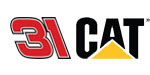 Ryan Newman Withstands Minor Damage from Early-Race Accident
to Collect Seventh-Place Finish at Talladega Superspeedway
Ryan Newman drove Richard Childress Racing's No. 31 Caterpillar Chevrolet SS to a seventh-place finish in Sunday's 500-mile event at Talladega Superspeedway. The South Bend, Ind., driver started 18th and drove a conservative race in an effort to avoid trouble. Lap 47 produced a multi-car crash and a red flag. Newman took evasive action, but still received minimal damage that was addressed on laps 48 and 49 during pit stops before the No. 31 driver returned to the track. For the majority of the 188-lap event, he raced in the top 30 and out of harm's way. During a caution with less than 30 laps remaining, crew chief Luke Lambert called his driver to pit road for service. In under seven seconds, the Cat crew changed two right-side tires and refueled the No. 31 Chevy. Newman returned to the track 15th ready to make a run to the front. The final laps saw two major lines develop with Newman testing both before choosing the top as his best option. He gained 11 positions before the checkered flag waved. Sunday's seventh-place finish is the team's sixth top-10 finish of the season. Newman now ranks 14th in the championship point standings heading into next Saturday's race at Kansas Speedway. Quicken Loans will be on board as the primary sponsor. 
Start - 18                      Finish - 7                     Laps Led -   0              Points - 14
RYAN NEWMAN QUOTE:
"It was a decent finish, we come here to win.  I guess when you can roll the car on the trailer that is a small victory in itself.  I'm proud of the guys on the Caterpillar Chevrolet.  It's one of those deals at restrictor plate tracks our best lap is the last one, running position wise.  I guess today was a decent point's day, if you are counting points."

RCR PR